Parents and Families
Student Health is Here for You!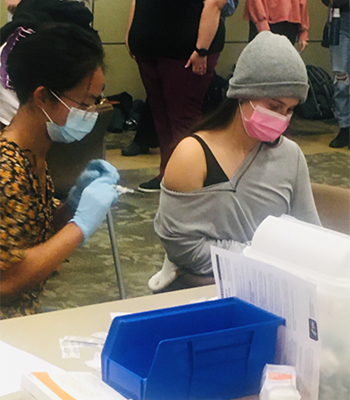 Staying Healthy
Student Health continues to administer both COVID-19 and flu vaccines. Both flu and COVID-19 vaccines remain available with an appointment and often the same day.
We have all three COVID-19 vaccines and are able to vaccinate faculty, staff, and students of Appalachian State University.
Boosters are also available.
Services
Services provided at Student Health include the following:
Covid vaccination (Moderna, Pfizer and Janssen)
Wellness checks
Sick visits
Women's Health
Men's Health
STI testing
Radiology
Laboratory
Injury Clinic
Allergy serum administration
Immunizations
Pharmacy
Travel health
Pyschiatry and mental health visits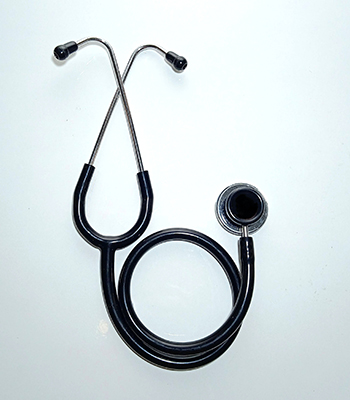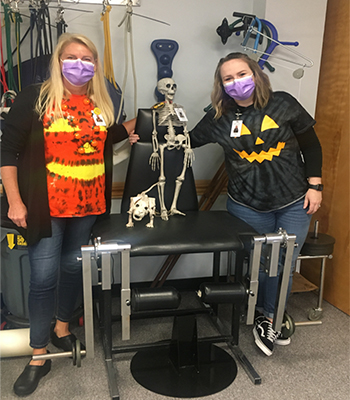 Boo!
Athletic trainers Nancy Elliott and Corinne Ruttiger had extra help over Halloween!
The Injury Clinic provides assistance to help students recover from injuries.
Assure Ongoing Quality Care
M.S. Shook Student Health Service was reaccredited for three years by the Accreditation Association for Ambulatory Health Care. We had our survey in July of this year and were very happy to receive a great survey after the frantic pandemic atmosphere of the past 15 months.
A credit to the talented provider-led team of clinical and administrative staff serving here.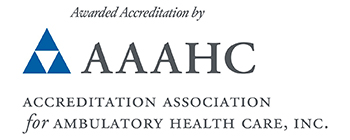 Getting Ready for the Holidays
Does your student have prescriptions that will need to be filled over the holidays? They can ensure that there is no interruption by visiting the pharmacy and/or sending their provider a MedPortal message to renew their prescriptions.
Welcome New Providers!
Tanya Stevens Shook, NP and Nancy Patz, PA joined M.S. Shook Student Health Service.
Tanya was a Nurse Practitioner for 20 years at NC State University. Nancy was a Physician Assistant with UNC-Wilmington, also for over 20 years. We are very happy to have found two providers with such great experience in College Health.

Margaret Bumgarner, FACMPE, FACHE
Administrative Director
M.S. Shook Student Health Service
(828)262-6957
Page content reviewed: 11/13/20 fwg