Pharmacy
Student AppCard is REQUIRED for all services!
The pharmacy is located in the Observation area of M.S. Shook Student Health Service. It is accessed by entering the Observation door and proceeding down the left-hand hallway. The pharmacy will be located on the right.
Hours of Operation
Monday/Tuesday: 8:00am - 4:00pm
Wednesday: 9:00am - 4:00pm
Thursday/Friday: 8:00am - 4:00pm
*The pharmacy is closed on all weekends, holidays, and breaks.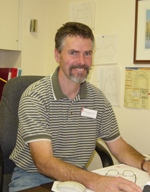 David J. Neal
Pharmacy Director
The primary focus of the pharmacy is to meet the acute needs of the student, whether injury or illness. A valid AppCard student ID is required. The pharmacy stocks a small formulary of medications that supports this focus. The pharmacy employs a full-time pharmacist and certified pharmacy technicians. Prescription and non-prescription medications, patient counseling, and information about medications are offered. Students may have any prescriptions filled, provided the medication is part of the formulary. There is a nominal charge for most pharmacy items. Payment options include cash, check, Express acount, credit card, debit card, or charge to a student account.
Getting Ready for the Holidays
Does your student have prescriptions that will need to be filled over the holidays? They can ensure that there is no interruption by visiting the pharmacy and/or sending their provider a MedPortal message to renew their prescriptions.
Page content reviewed: 4/11/18 djn